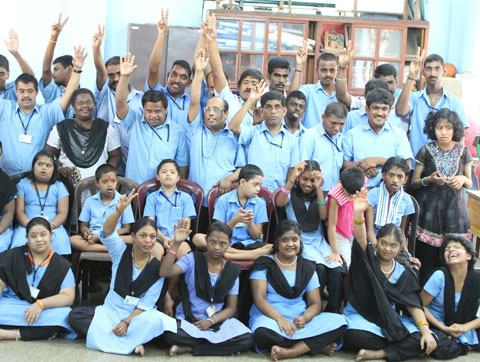 The YMCA Bodhinilayam, the special school for intellectually challenged children, instituted by the Kottayam YMCA in the year 1989 and managed by the Kottayam YMCA Charitable & Service Trust, remains as an embodiment of its concern for the underprivileged sections of the society.
Even though the school was started in a humble way with 18 children, the credence of the project was established beyond doubt with the ever increasing demand for admission and consequently we have got 65 students in the school now. YMCA Bodhinilayam reaches out to people irrespective of religion and caste and our involvement is mainly concentrated on providing behavior modification of the mentally challenged children from the poor sections of the society through services of physiotherapy, occupational Therapy, speech therapy, music therapy, yoga therapy and special education techniques following a prescribed scientific curriculum to help them overcome their difficulties, besides giving them vocational training.
Donations to the School are exempted from Income Tax under 80G exemptions.
Bank Details (for 80G Exemption)
A/C Name : The Kottayam YMCA Charitable and Service Trust
A/C No : 520101038924400
Bank : Union Bank, Valayil Building, Kottayam
IFSC : UBIN0902080